Hi, welcome to my website! On this page you'll find the link to my latest paper and Ph.D. thesis, the recording to my latest talk, and information about my current projects. On the other pages, you can find my CV, list of talks, and publications. Cheers!
🌸🌸🌸
Highlighted articles
Blom, Joleen. 2022. "Challenging Linearity: Microstructures and Meaning-making in Trails of Cold Steel III." In Japanese Role-playing Games: Genre, Representation, and Liminality in the JRPG. Edited by Jérémie Pelletier-Gagnon and Rachael Hutchinson. Washington, DC: Lexington Books.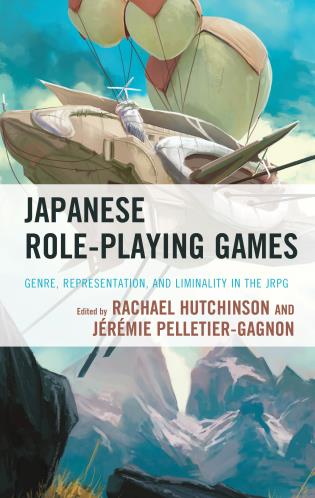 Book abstract:
Japanese Role-playing Games: Genre, Representation, and Liminality in the JRPG examines the origins, boundaries, and transnational effects of the genre, addressing significant formal elements as well as narrative themes, character construction, and player involvement. Contributors from Japan, Europe, North America, and Australia employ a variety of theoretical approaches to analyze popular game series and individual titles, introducing an English-speaking audience to Japanese video game scholarship while also extending postcolonial and philosophical readings to the Japanese game text. In a three-pronged approach, the collection uses these analyses to look at genre, representation, and liminality, engaging with a multitude of concepts including stereotypes, intersectionality, and the political and social effects of JRPGs on players and industry conventions. Broadly, this collection considers JRPGs as networked systems, including evolved iterations of MMORPGs and card collecting "social games" for mobile devices. Scholars of media studies, game studies, Asian studies, and Japanese culture will find this book particularly useful.
The book can be ordered at 30% off the list price using the code LXFANDF30 at rowman.com.
🌸
Blom, Joleen. 2022. "The Player's Interpretative Agency and the Developer's Disruptive Powers: How Blizzard Enforces Authorial Intention in Overwatch." In Modes of Esports Engagement in Overwatch, edited by Maria Ruotsalainen, Maria Törhönen, and Veli-Matti Karhulahti, 49–66. Cham: Palgrave Macmillan.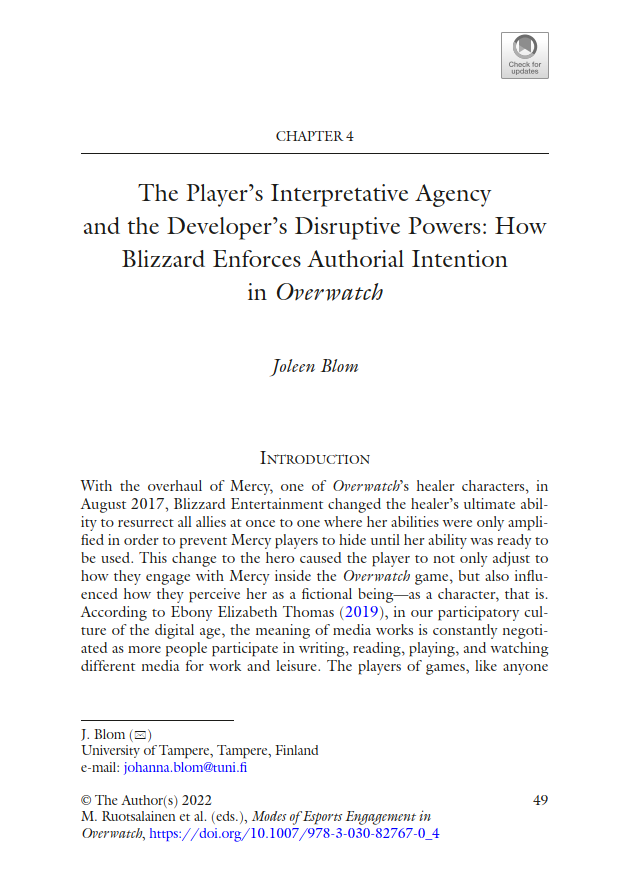 Abstract:
Due to constant internet connection many games nowadays require developers of games such as Overwatch to alter the structure of their video games directly and frequently. This chapter argues that, because of such modern technologies, Blizzard is able to change the meaning of the game content whenever it wants so that players are constantly forced to follow the changing authorial intention if they wish to continue playing the game. An illustrative example of game content to which authorial intention is applied are the Overwatch's heroes, where the players' interpretations of the characters as game pieces and fictional beings are systematically outplayed by the developer. This chapter thus demands to critically re-evaluate our perception of the author's influence over the interpretation of a cultural product.
🌸🌸🌸
Ongoing projects
Parasocial relations with game characters
Book: Game characters and transmedia storytelling
Ph.D. Thesis
Find my Ph.D. thesis here!